WPC 2017 … Portugal strikes again!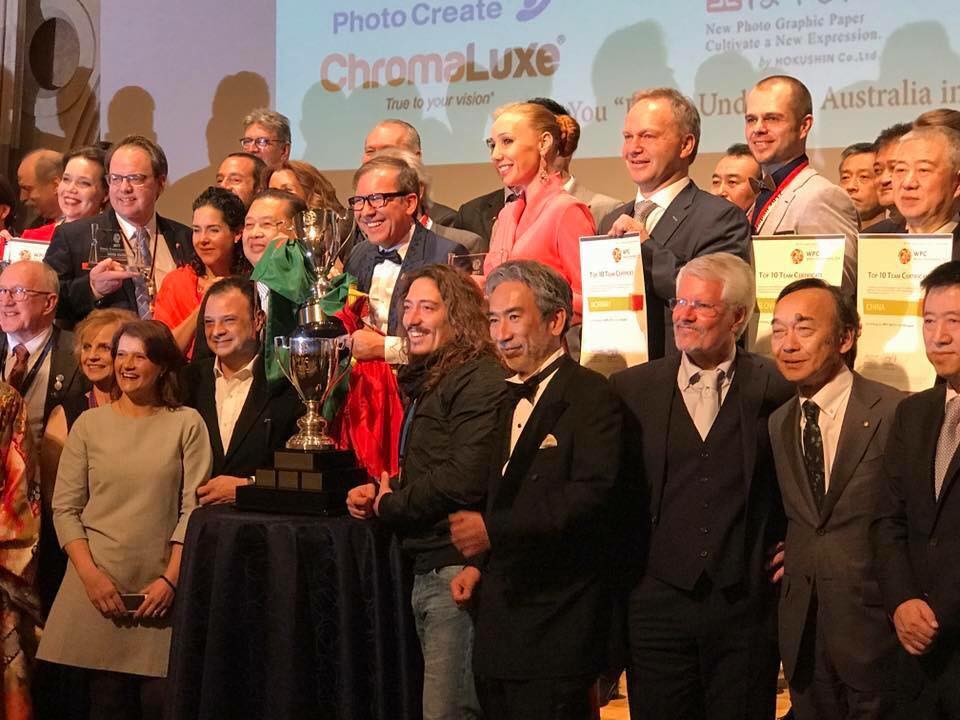 Yokohama, Japan, February 23th, 2017
The World Photographic Cup 2017 winners announced
After winning the cup at home in 2016 …. the winner of the 2017 World Photographic Cup, with a total of 34 points … is Team Portugal again !
The second place goes to United States of America, with Russia in the third place.
Individual gold medals go to Russia, Finland, Mexico, Slovakia, United Kingdom and Singapore.
Individual winners and the Cup winning Team of the 2017 World Photographic Cup (WPC), sponsored by the FEP – Federation of European Professional Photographers, PPA – Professional Photographers of America, the UAPP – United Asian Professional Photography and the AIPP – Australian Institute of Professional Photography, has been finally announced on February 23rd at the WPC 2017 PHOTO SHOW in Japan (Yokohama, Grand Intercontinental Hotel) organized in cooperation with the PPJ, Professional Photographers of Japan Association.
26 national photographic teams entered the fourth edition of this unique, one of a kind Olympics-styled competition, from Europe, Middle East, Asia, North America and Oceania.
The Golden medals in the six categories went to:
Dušan Holovej, Slovakia, for Commercial category
Antti Karppinen, Finland, for Illustrative category
Pepe Soho, Mexico, for Nature (Landscape and wildlife)
Eelena Malysheva, Russia, for Portrait category
Goh Wee Seng, Singapore, for Reportage/Photo Journalism
Lee Howell, United Kingdom, for Wedding

Also appears in the medals table: Amber Griffin (New Zealand), Silver Medal and Michelle Trull (Team USA) Bronze Medal for commercial. Uli Staiger (Team Germany), Silver medal and José Almeida (Portugal) Bronze Medal in Illustrative; Andreas Kalvig Anderson (Norway), Silver Medal, and Ann Coppens (Belgium), Bronze Medal for Nature; Christopher Ian (Australia), Silver Medal and Nikki Harrison (Canada), Bronze Medal for Portrait; Vincenzo Tessarin (Italy), Silver Medal and Old?ich Bubák (Czech Republic) Bronze Medal in Reportage/Photojournalism; and finally Andreas Zopf (Austria), Silver Medal and Terese Samuelsen (Norway), Bronze Medal in Wedding.
While gold, silver, and bronze medals have been awarded to the individual creators in each category, teams were awarded points for top ten finishes. They received 10 points for gold, 9 for silver, 8 bronze and that follows to the tenth top image. The top ten positions were decided literally on decimal points which suggests a very, very tight competition.
Slovakia team finished the competition in 10th place, tied with China. Germany got the 9th place, and United Kingdom the 8th place. They finished in a two-way tie in 6th place Mexico and Spain. All alone in an amazing 5th place, Austria. In the 4th place, just close to the podium, Norway (the only team who got 2 medals).
The third place trophy, with 1 golden medal and 3 top-ten finishes, 25 points, went to Team Russia, once again on the podium. The second place trophy, with 1 medal and 3 top-ten finishes, 27 points, went to Team USA (another amazing result for the 2014 and 2015 WPC winner!).
And the winner of the 2017 World Photographic Cup, with 1 medal and 7 top-ten finishes, 34 points, was Team Portugal.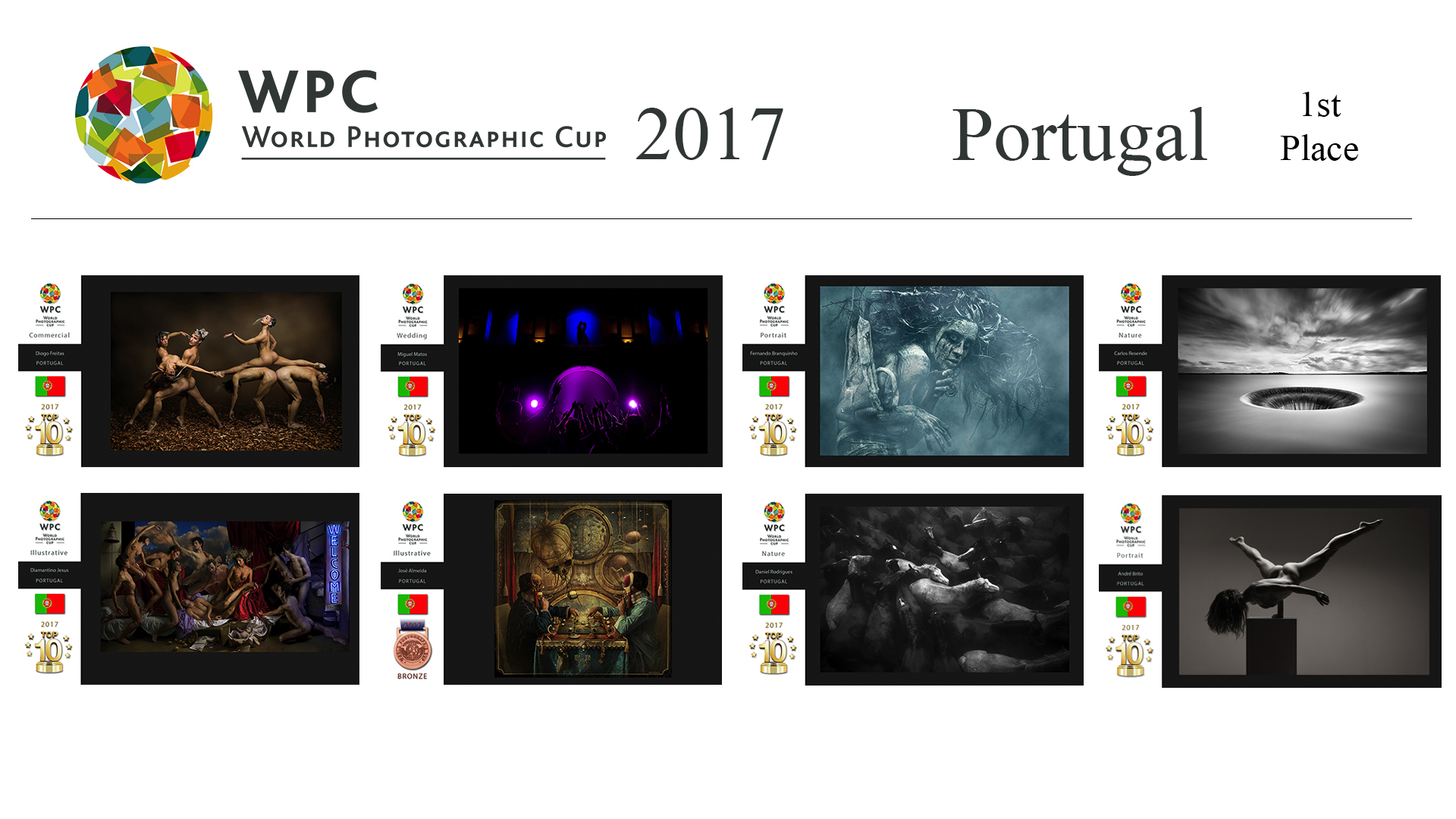 "Congratulations to Team Portugal for winning the WPC two times in a row, and all the winners. An incredibly close competition, with a huge variety of winners, from 4 continents, is exactly what the WPC committee could hope for", commented the Chairman of WPC Judging Committee Jorgen Brandt, "It has been amazing to see so many beautiful images coming from around the globe, and really difficult to judge them!"
"It's a unique feeling coming out from a unique competition" – added Giuseppe Scozzi, WPC Chief Executive. "Representing their homeland at any level is an amazing opportunity and there has never been a program that involves photography like this. Now we have it in the World Photographic Cup. We really experienced the groundswell of enthusiasm from photographers to create the finest they can in the hope of representing their country!"
The WPC CEO also thanked the Professional Photographers of Japan Association for having organized such a beautiful event, and announced that the next hosting country will be Australia in 2018.
He finally thanked the important companies related to the photographic market (CHROMALUXE, KOYLAB, COMET Corporation, HOKUSHIN and PHOTO CREATE) for their support to the project and to the professional photographers around the globe.More information and winning pictures available soon at www.worldphotographiccup.org