FEP Photographer of the Year 2014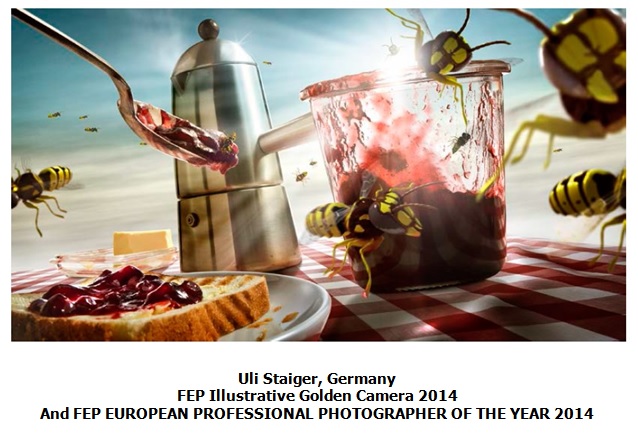 Today, at the FEP Awards Ceremony, inside photokina2014, in Cologne, Germany, the winner of the FEP competition 2014 has been announced.

ULI STAIGER, Germany, winner of the FEP Illustrative Golden Camera 2014, has been nominated the FEP EUROPEAN PROFESSIONAL PHOTOGRAPHER OF THE YEAR 2014.

CONGRATULATIONS!!!

Uli Staiger, the overall winner, was chosen by our International Jury within the 7 Golden Cameras 2014 winners, who have been presented today with their certificates and trophies:

Yuri Afanasiev, Russia, FEP COMMERCIAL GOLDEN CAMERA 2014

Uli Staiger, Germany, FEP ILLUSTRATIVE GOLDEN CAMERA 2014

Vincenzo Tessarin, Italy, FEP LANDSCAPE GOLDEN CAMERA 2014

Mikhail Panin, Russia, FEP PORTRAIT GOLDEN CAMERA 2014

Isabel Corthier, Belgium, FEP REPORTAGE GOLDEN CAMERA 2014

Juan Carlos Guardia Vazquez, Spain, FEP WEDDING GOLDEN CAMERA 2014

Malou Reedorf, Denmark, FEP STUDENTS AND YOUNG PHOTOGRAPHERS GOLDEN CAMERA 2014

The "FEP European Professional Photographer of the Year Awards 2014" has been entered by more than 400 photographers from Austria, Belgium, Czech Republic, Denmark, Finland, France, Germany, Greece, Ireland, Italy, Netherland, Poland, Portugal, Romania, Russia, Slovakia, Spain, Sweden, Switzerland, Uk and Ukraine.
Congratulations to all the winners. Winning images can be seen HERE.