FEP COMPETITION 2014: Awards for single images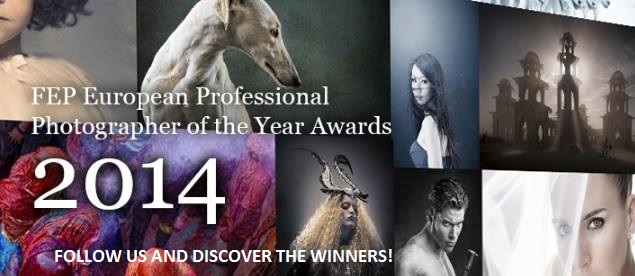 We are happy to announce the names of the photographers who got at least 1 award at the FEP European Professional Photographer of the Year Awards 2014.We remind you that in this competition, we award the photographers for their set of 3 pictures (Golden, Silver and Bronze Cameras), but we also award the best single images with "Gold, Silver and Bronze Awards". The awarded pictures will be published online after the announcement of the winners.
COMMERCIAL AWARDS (PRIZES FOR SINGLE IMAGES)GOLDYuri Afanasiev, RussiaEnda Cavanagh, IrelandMaurizio Marcato, ItalyLeonid Petrov, RussiaJano Stovka, SlovakiaSILVERMarian Beneš, Czech Republic, 2 silver awardsJose Luis Guardia Peinado, SpainMichael Liebert, AustriaLeonid Petrov, RussiaBRONZEYuri Afanasiev, Russia, 2 bronze awardsEric Bernatets, FranceGerry O'Leary, IrelandXanti Rodriguez, Spain, 2 bronze awards
ILLUSTRATIVE/FINE ART/DIGITAL ART AWARDS (PRIZES FOR SINGLE IMAGES)GOLDVicente Esteban, SpainLev Savitskiy, UkraineUli Staiger, Germany, 2 gold awardsSILVERYuri Afanasiev, RussiaAlvaro Jose Ruiz Nogues, Spain, 2 silver awardsMark Russell-Hill, IrelandMichael Schnabl, Austria, 2 silver awardsChristine Simpson, Ireland, 3 silver awardsUli Staiger, GermanyVesa Tyni, FinlandKarel Waignein, BelgiumBRONZEAndrzej Bochenski, PolandAndreas Bübl, AustriaDmitry Egorov, RussiaKelvin Gillmor, IrelandXanti Rodriguez, SpainDarko Todorovic, AustriaVesa Tyni, Finland
LANDSCAPE AWARDS (PRIZES FOR SINGLE IMAGES)GOLDKelvin Gillmor, IrelandVincenzo Tessarin, ItalySILVERVlado Baca, SlovakiaLuisa Viladoms Bargallo, SpainPavol Delej, SlovakiaPeter Gordon, IrelandLev Savitskiy, UkraineVaclav Sojka, Czech Republic, 2 silver awardsVincenzo Tessarin, ItalyBRONZEPavol Delej, SlovakiaTom D. Jones, BelgiumCarl Lapeirre, Belgium, 2 bronze awardsPanagiotis Laskarakis, GreeceGerry O'Leary, IrelandVladimir Petrov, RussiaMichael Schnabl, Austria, 2 bronze awardsVaclav Sojka, Czech RepublicVincenzo Tessarin, Italy
PORTRAIT AWARDS (PRIZES FOR SINGLE IMAGES)GOLD Evgeny Kolesnik, UkraineSILVER Mikhail Panin, Russia, 2 silver awardsAlvaro Jose Ruiz Nogues, SpainLev Savitskiy, UkraineJano Stovka, SlovakiaBRONZE Eric Bernatets, FranceDermot Byrne, IrelandValeria Cassina, SpainPadraic Deasy, IrelandMathias Kniepeiss, AustriaLluis Oliver, Spain Mikhail Panin, Russia
REPORTAGE AWARDS (PRIZES FOR SINGLE IMAGES)GOLDIsabel Corthier, BelgiumSILVERIsabel Corthier, Belgium, 2 silver awardsBRONZEIngo Albrecht, SwitzerlandFabian De Backer, BelgiumPavol Delej, Slovakia Francis Gameiro, FranceAntonio Gibotta, Italy
WEDDING AWARDS (PRIZES FOR SINGLE IMAGES)GOLDTomás Avis, SpainHelder Couto, PortugalJuan Carlos Guardia Vazquez, SpainPhilippe Swiggers, BelgiumSILVERHelder Couto, PortugalStefano Gerardi, Italy Clemente Jimenez Santander, SpainCarlos Felipe Ortiz Morel, SpainFilipe Santos, PortugalMichael With, DenmarkBRONZEAngel Blanco, SpainSalvatore Dimino, Italy, 2 bronze awardsRino Cordella, ItalyPeter Gordon, IrelandJose Luis Guardia Vazquez, SpainJuan Carlos Guardia Vazquez, Spain, 2 bronze awardsMaria Jose Mendez Ubeda, SpainBruno Sergio, Italy
STUDENTS AWARDS (PRIZES FOR SINGLE IMAGES)GOLDMalou Reedorf, Denmark, 3 gold awardsMarius Vieth, GermanySILVERJan Skop, Czech RepublicMarius Vieth, GermanyBRONZEDawid Galinski, PolandJan Skop, Czech Republic
All those photographers are invited to come to the FEP Awards Ceremony which will take place on September, 18th, 2014 in Photokina, Cologne, Germany, at 17.00. They will be presented with their certificates in front of an international audience. (More details will be communicated by email). Only the best of them, will also be presented with their Golden, Silver and Bronze Cameras! Follow us on our website and on facebook and wait for the final results: Golden, Silver and Bronze Cameras for each category will be announced by the end of June!