2014 Finalists of European Professional Photographer of the Year 2014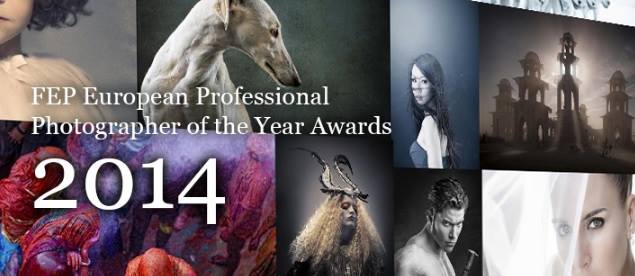 500 professional photographers from 22 countries entered our annual European Photographer of the Year Awards for 2014. The international jury has now completed the judging round.
The winners will be announced and the awards will be presented at a special ceremony to be held in Photokina, on September 18.at 17.00 in the professional stage area.
The names of the top best photographers in each of the seven categories – the so called "finalists" – are now available.
Commercial
Yuri Afanasiev, Russia Marian Benes, Czech republic Enda Cavanagh, IrelandJose Luis Guardia Peinado, SpainJose Luis Guardia Vazquez, SpainEugenio Hernandez Guadilla, Spain Maurizio Marcato, ItalyGerry O'Leary, IrelandLeonid Petrov, Russia Xanti Rodriguez, Spain
Illustration/Digital Art/Fine Art
Yuri Afanasiev, RussiaAndreas Bübl, AustriaVicente Esteban, SpainTom D. Jones, BelgiumAlvaro Jose Ruiz Nogues, SpainMichael Schnabl, AustriaChristine Simpson, IrelandUli Staiger, GermanyVesa Tyni, FinlandKarel Waignein, Belgium
Landscape
Vlado Baca, SlovakiaPavol Delej, SlovakiaKelvin Gillmore, IrelandPeter Gordon, IrelandJan Hrbácek, Czech RepublicTom D. Jones, BelgiumPanagiotis Laskarakis, GreeceGerry O'Leary, IrelandMichael Schnabl, AustriaVaclav Sojka, Czech RepublicVincenzo Tessarin, Italy
Portrait
Dermot Byrne, IrelandAkis Douzlatzis, GreeceEvgeny Kolesnik, UkraineMathias Kniepeiss, AustriaLluis Oliver, SpainPetri Olli, FinlandMikhail Panin, RussiaAlvaro Jose Ruiz Nogues, SpainLev Savitskiy, UkraineMichael Schnabl, AustriaJano Stovka, Slovakia
Reportage
Edoardo Agresti, ItalyIngo Albrecht, SwitzerlandIsabel Corthier, BelgiumGianluca De Bartolo, ItalyPierre Delaunay, FrancePavol Delej, SlovakiaFrancis Gameiro, FranceAntonio Gibotta, ItalyRalph Larmann, GermanyVincenzo Tessarin, Italy
Wedding
Tomás Avis, SpainHelder Couto, PortugalSalvatore Dimino, ItalyStefano Gerardi, ItalyCarlos Felipe Ortiz Morel, SpainAlvaro Jose Ruiz Nogues, SpainFilipe Santos, PortugalClemente Jimenez Santander, SpainPhilippe Swiggers, BelgiumJose Luis Guardia Vazquez, SpainJuan Carlos Guardia Vazquez, SpainMichael With, Denmark
Students and Young Photographers
Markus Aspegren, FinlandSouvid Datta, United KingdomTom Flynn, United KingdomDawid Galinski, PolandJack Peilow, United KingdomMalou Reedorf, DenmarkCharlotte Sams, United KingdomJan Skop, Czech RepublicMarius Vieth, GermanyAndreas Van Esbroeck, Belgium
"Dedication to excellence and high quality is fascinating, as it shows and gives insight into the life and imagination of great creative minds. The participating Photographers have all shared their very diverse skills with the professional Photography, and given us all an understanding through the images that goes beyond culture and spoken words.
It has been a close race, and the 70 finalists are the very best in a very hard competition with a lot of high scorers running up. The photographers are of course the center of a competition, but without the hard, qualified, joyful and voluntary work of the judges, there would not be any prestigious competition. So FEP would like to thank all the Judges for showing their love for Photography and its trade"
-Jørgen Brandt.