FEP EUROPEAN FINE ART PHOTOGRAPH OF THE YEAR AWARD 2011
On September 22nd, in Photokina, Cologne, Germany, Martin Vrabko, Chairman of the Competition announced, in front of an international audience, the name of the winners of the FEP European Fine Art Photograph of the year Award 2011. Actually we had a tie:
Carlos Felipe Ortiz Morel, from Spain and Peter O'Donnell, from Ireland, who achieved exactly the same score, were presented both by Roy Meiklejon, representing the sponsoring company Towergate Camerasure with their certificates and trophies. Their wonderful images reached both the first place.
Third place goes to Peter Eastway, from Australia. Images of the contest and of the ceremony on our Facebook page: http://www.facebook.com/pages/FEP-Federation-of-European-Photographers/196609550358729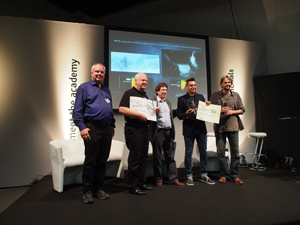 FEP EUROPEAN PROFESSIONAL PHOTOGRAPHER OF THE YEAR AWARDS 2012
This competition is still open. The deadline for entry has been postponed to October, 15th.
This allow you 2 more weeks to enter your images! You can enter it at: http://competition.europeanphotographers.eu/competition.asp?compo_id=23
Winners of each category will be presented with a FEP Golden Camera. The overall winner will be awarded as the FEP European Professional Photographer of the Year.